Hide your wallet, hide your kids, ultimate narcissists NFL star Chad Ochocinco and Evelyn Lozada of Basketball Wives infamy have signed with VH1 for a reality spin-off show.  The show reportedly will document the moments leading up to their impending nuptials.
Like many pro athletes of his stature, loaded with money, women, and insecurities, (until it's all gone) Chad Ochocinco may never figure out what to do with it all.  But it seems he's trying.  No longer about being what he thinks people want him to be, instead he's trying to discover who he is beyond the game of football.  In the past, the stereotypical self-hating, baby-making, womanizer side of him has gotten all the glory.  So now that he has put a ring on it, are we to believe that he is a changed man?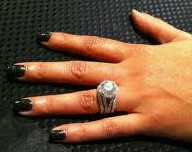 Personally, I don't know how he can stand this whiny, it's-my-way-or-the-highway, Miami sandbox bully Evelyn Lozada.  Ochocinco, if you don't already know, doesn't date black women.  But, suspiciously, if the circumference of Evelyn's nose holes is any indication, it looks like he's slowly creeping closer to Africa.  The irony is that neither Evelyn nor Ochocinco (gorgeous smile aside) is as hot, irresistible, or snuggly as they think.  To worsen matters, everyone, including these fame snores, knows that this caricature of a coupling cannot work.
Narcissists by definition can mime love, but are utterly oblivious to what this love stuff actually is.  Besides, Crazy Evelyn is too bitter, vicious, and money hungry to co-mingle this opportunity with an emotion as non-beneficial as love.  Ten years with an NBA baller that left her with nothing—but sour, sweaty memories—and not the material trappings a platinum gold-digger desires—she will not repeat.  Now that she's ready for some footballs (and has finally rolled off those sad, empty, deflated basketballs), she's going to pop out as many subscript Ocho8cinco5's as can be held at one time in an aging uterus.  All while writing a book for Baby and Cash Money Content, visiting her grown daughter in college, and showing up at Big Ochocinco's NFL games!
For all to see, while Evelyn is trapped in the glass money ball of HD-TV, desperately, she will snatch away at as much free-flowing NFL loot as she can grasp while Chad is awake—but especially when Papi's asleep.  This we expect.  But watch closely. 
Don't look away from the sleazy recreational sex and the obnoxious mind games.  Don't overlook the tears for (fake) love and respect when Chad's eyes wander in 85 lady directions (and wander they must).  And don't you dare ignore the four-letter word arguments that ensue.  Before it's all over, we, the viewers, will finally know just how far and low Evelyn will crawl in the most aggressive and extravagant pursuit of fame and fortune in TV history.  We shall also see just how many psychotic episodes it takes for her to resemble the very blackest of women of any race Ochocinco probably deserves, but has every right to avoid.
Take this "man" and this "woman."  They may be equally yoked.  But surely not in the wholesome Biblical sense.  To their credit, unlike Kris Humphries, at least both participants are all in on orchestrating this wedding/marriage sham.  And thankfully, this time around, we, the viewers, are too!
Is their love real?  Will this wedding really happen?  Will the marriage performance endure?  What do you think?
Related posts: