Mama Bey's performance at this year's VMA's was Blue Ivy approved.
Listen to Beyonce  and Jay Z's laughter.  It's infectious.
It's official.  Tameka 'Tiny' Harris, T.I.'s boo, has the bluest eye.  Her eye color, thanks to a surgical procedure by BrightOcular, has gone from drab and brown to a cool ice gray.  To borrow a verse from Drake Drizzy, Oh Lord, BP from a hunderd to two hunderd real quick.
Real quick.
Blue Ivy is a matter of months away from being a big sister!
But did they all have to come back . . . on the same night? I thought it would never, ever, ever end! Anyhoo, here's the 55th Grammy Awards Rewind.
Taylor Swift, ringmaster, opened the 55th Grammy Awards with an Alice in Wonderland circus act. Elton John helped Ed Sheeran kill some time and a few angels in the snow. The Best Pop Solo Performance went to Adele for "Set Fire to the Rain (Live)." Neil Patrick Harris (who annoyingly has nothing to do with music, thanks CBS) announced a performance by Fun. But just before Fun came to the stage to perform a funky, folksy tune aptly called "Carry On," in a corner of the television Chris Brown's arm was affectionately going around Rihanna's neck and was one of the most deliciously irresistible moments of the night to voyeur.
And that was just the first 15 minutes of the show.
Blue Ivy spends first birthday alone.  Playing solitaire.  Waiting for the birth of Karmenian Bluegrass, Kim and Kanye West's little klothespony-to-be. . . .
Master P and MC Hammer must be scratching their heads about now.  They must be asking themselves: "Where were these guys before I unloaded all my loot on the sort of stuff that the Bible warns will rust, break, and or get eaten by moths?"
This nail art pays sweet (albeit unsettling) homage to Beyonce and Jay-Z.  But shockingly, it's in the form of laughing shrunken heads.  Initially, many believed that these were Beyonce's nails.  However, upon closer inspection, it turns out that they belong to someone else.  Rumors are swirling that these are the nails of an anonymous fan of unspeakable devotion.  But if you ask me, these are the nails of an older woman of some grace, style, and distinction who–if you can belive it–is a little more heavily invested.  She might give me the finger (you know, the one with Jay-Z on it).  But hands down, I believe, these have got to be the hands of Grandma Tina!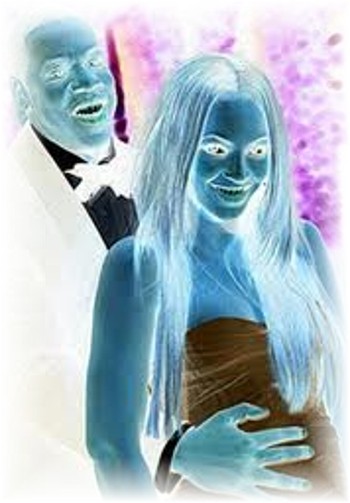 Music and news-making superstars Beyonce and Jay-Z welcomed baby girl Blue Ivy into the world this past Saturday. 
You might have thought that the bitter blacklash surrounding the child's odd name, security measures taken at the hospital, and exclusive arrangements made for her birth were enough to make the couple blue.  Not so. 
Jay-Z posted a tribute to his baby girl on the World Wide Web expressing his utter joy in a "song" called "Glory."
The song, which included an unexpected revelation of a miscarriage, ends with the lament of a child, believed to be baby Blue's precious first cries. 
Congratulations to proud parents, Beyonce and Jay-Z!
Time after time, not an eighth note passes, before Alicia Keys strikes another wrong note with her fans.  Her career began to ooze and fester around the time of her adulterous affair with music producer Swizz Beatz, the deadbeat, who had yet to look black and untether himself from his lovely wife, Mashonda, mother of his young son.  When radio jock Tom Joyner repeated the unfortunate but tantalizing Swizz Beatz tweet saying, 'Alicia Keys is in my kitchen making me breakfast buck naked,' we all knew that the apron strings of a decent reputation had all but unraveled.