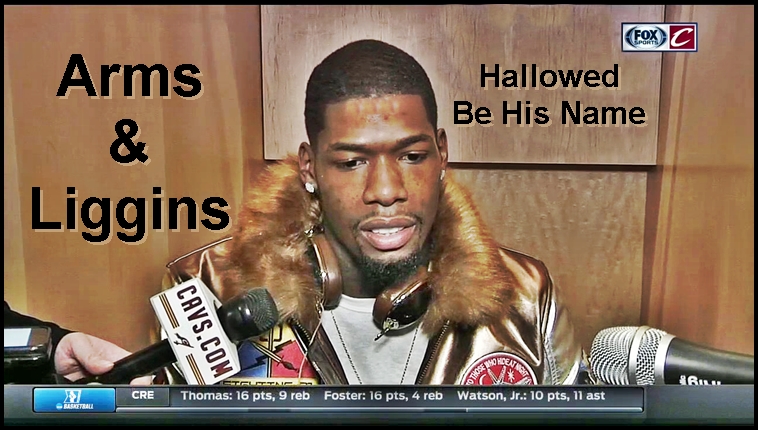 Ladies and Gentlemen of the Orange Ball, allow Blackbiter.com to introduce to you the new and improved Matthew Dellavedova. Longer.  Stronger.  Wilder.  Blacker.  His name is DeAndre Liggins.
After Cleveland offered a training camp invite this summer, returning Cavs guard Dahntay Jones didn't have a chance against "Arms & Liggins" for the 15th and final seat on Tyronn Lue's bench.  Night after night, after Liggins's consistent showing of impressive defensive and offensive work, the head coach seemed as surprised as reporters.  Coach, with a rare chuckle, said, "Did you see him?  He was everywhere.  All over the place."
All arms.  All legs.  Everywhere.
"It's great to have some youth out there—athletic, some length and somebody that's not afraid to guard," Cavs assistant coach James Posey told SI.com.
On Liggins's growth, former Thunder teammate Kevin Durant, only a year removed from the NBA Finals, shared this insight:
"He's a workhorse, man. I love him," Durant began. "You can tell he's a guy that's tough and has been that way his whole life. You can just tell by how he plays that he's been working from the bottom to get to the top his whole life. People have counted him out, I'm sure, but he continues to keep beating the odds."
Last but not least, Deandre Liggins is beating the odds, indeed.
If you're feeling stressed, pressure, a pit bull tugging on your jersey, paws in your face, sweat on your sleeve, heat on your back but there's no sun, an inability to see the rim but your eyes are just fine, and you're running, turning, spinning, as if in the path of a hurricane, and you just can't shake the menacing shadow that has attached himself to you, you have undoubtedly wandered into the path of DeAndre "Arms & Liggins."  Just ask Steph Curry.  In the much anticipated match up between the Golden State Warriors and the 2016 NBA Championship Cleveland Cavaliers, here's a gift:
Liggins wrings dry "Splash Brother" on Christmas day.
Welcome to Cleveland and the King's Court, DeAndre!  We're happily looking forward to your contributions in the new year!