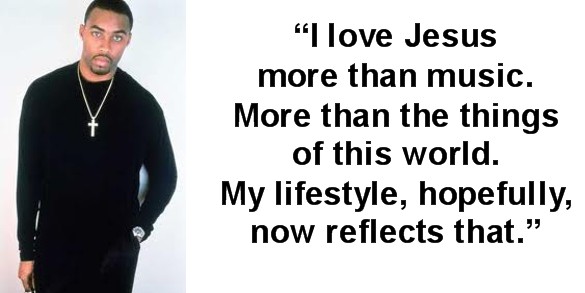 Though re-born, it has been a peculiar year for Montell Jordan.
In January, "This Is How We Do It" was used in commercials for Jackson-Hewitt Tax Service.
Then irony of ironies, in April TMZ reported that Montell Jordan was being hounded by the IRS for over $617,000 in back taxes from 1999-2001.  Although the former R&B singer filed for bankruptcy in 2004, he responded that the debt was paid.  Unfortunately, in a cruel turn of Fate, selling his music catalog was the sacrifice he made to pay it.
It has been 17 long years since Montell Jordan shook the world stage with the banging smash hit "This Is How We Do It."  If you recall, the song's popularity earned a Grammy nomination and two MTV award nominations.  But that was then.
At 6'8", the giant-sized multi-talented star is now singing to glorify the Lord.  Currently, Montell Jordan is the Worship Leader at the multi-cultural Victory World Church in Norcross, Georgia.  A church, Jordan says, is more "heaven-like" because of its diversity.
In May, Montell Jordan and his manager Kristin Jordan, who have been married since 1994, were blessed with a new daughter, Samantha Victoria Jordan.  LadyBug, as she is affectionately called, is the fourth child for the couple.
Then in July, startling family and fans, Twitter reported:
The made-up tweet left Jordan no alternative but to tweet that he was—for better or for worse—yet living in the flesh.  As insurance, the singer was forced to upload a photo as proof that he had not given up the ghost.
While out of the spotlight—though yet very much alive, few fans knew that Montell Jordan had become a licensed minister able to—in his own words, "Marry, bury, and baptize."  Like crazy-legs MC Hammer and former Bad Boy Ma$e who took the leap of faith before him, he has found that inexplicable satisfaction that living life as a Christian brings.  And happily, he is singing a new—holier—tune.
With the blessings of Senior Pastors Dennis & Colleen Rouse, the Jordans molded and breathed life into Victory World Music, an important outreach ministry of the parent church, in early 2011.  Shake Heaven, its first album, was released in November of the same year.  Drawing from extensive years in the music business producing acts such as Christina Milian, 98 Degrees, Sisqó, Dru Hill, Deborah Cox, Boyz II Men, Gladys Knight, and even the late great Whitney Houston, Jordan piloted the project.  Invoking heavenly Muses, he also wrote or co-wrote all thirteen songs and produced the CD.
"Victory World Music is committed to taking back what belongs to God by creating Christ-centered music that may be enjoyed by the entire world, believers and non-believers alike," said Jordan.
That brings us to the present.  The Fish (Christian radio) seems both surprised and excited at the requests pouring in for the title track, Shake Heaven, a single featuring Jordan and Dove nominated artist, Beckah Shae.  Amid skeptics questioning whether the born-again psalmist was really brand new or merely pimpin' the gospel, there was fear that Shake Heaven would shake loose loyal listeners.  However, from the continuous airplay the song is receiving, it's safe to say that those wicked fears have been quieted.
Journeying along the straight and narrow, Montell Jordan, who once gained the world to the spoiling of his soul, knows that there will sometimes be a few bumps.  But what Montell Jordan and Christians like him also know is (in spite of a year of devilish attempts to steal, kill, and destroy) a commitment to God is the payoff of an eternity.
Related posts: