The 2011 Soul Train Awards aired last night on Centric or BET (one, no, both of them?).  Here's the rundown of memorable moments:
Time, with Morris Day, was dug up, dusted off, and resurrected for the opening. 
The grab bag of tributes included sentimental serenades to the late Hip-Hop artist Heavy diddly-diddly D and R&B legend Gladys Knight (and maybe "Her Pips").  Similarly honored were the most sexually-ambiguous looking married men on earth: Earth, Wind & Fire.
And Wolf Blitzer didn't come to Dougie.  He came to beat box.  Literally!
Sure thing Miguel, "Girls like you remind me how lonely I am," finally won for best new artist.  Love those lyrics.  He actually has clever lyrics!  And he can sing!  Saint, I'm a sinner.  No surPRIZE, he's a winner!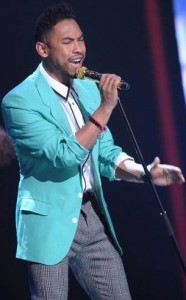 One of the best performance highlights of the evening was when the Joe, Eric Benet, and Robin Thicke trio sang Reasons as an homage to Earth, Wind & Fire.  Honestly, Joe didn't even have to show.  Robin Thicke said singing the insanely popular song was a big honor.  He and Eric Benet finessed their parts masterfully.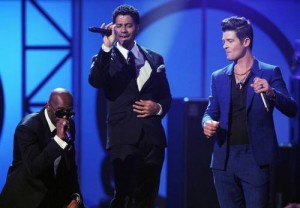 The irony is that it took three of today's modern artists to hit the range of notes lead singer Philip Bailey (used to be able to) hit with one incredible voice back in the day!
But before the award show began, another noteworthy and touching moment occurred on the red carpet of Atlanta's Fox Theatre.  Necole Bitchie, celebrity gossip and entertainment blogger, was brought to tears as she expressed her gratitude at having won the Best Soul Site 2011 Soul Train Award. 

Suddenly overcome by the moment, a leaky Ms. Bitchie spoke of how her aunt, believing she was a slacker, had kicked her out during her slogging away at the blogging thang.  "You know," Necole cried, "I guess she just didn't see my vision."  Then, like the blogging superstar that she is, blood relative status aside, she graciously thanked her "hater" for making her greater.
Shortly after Ms. Bitchie won the award (last week), she wrote on her blog:
I know I haven't written a really personal blog on this website in almost two years but I felt it was necessary today.  I would like to take this time to give a personal 'Thank You' to each and every one of you that voted for 'us' to win the Soul Train Music Award for Best Soul Site this year.  It really means the world to me!  When I was younger, I would record every single Award Show that came on TV on VHS Tapes and I'd watch them over and over again with my mom but I never thought in a million years that I would be accepting one of those awards one day.  My mother would have definitely cried if she had lived to see this.
 No doubt, Necole, no doubt!
Other Soul Train Awards winners of the night included these (mostly) deserving artists:
Best New Artist – Miguel
(as the French say, finalement!)
Centric Award – Raphael Saddiq
Song of the Year – Kelly Rowland for Motivation
(aka I don't wanna feel my legs)
Best Dance Performance – Queen Beyonce for Run the World
The Ashford & Simpson Songwriter's Award / Record of the Year –
Marsha Ambrosius for eh, eh, eh, eh, ooh, ooh, Far Away, ay, ay, ay!
(One of these days an all black singer is going to teach
Xtina and Marsha when to just breathe during a song.
Too many crazy runs can be a bit too much!)
Best Male R&B / Soul Artist – Cee-Lo Green
Best Female R&B / Soul Artist – Jill Scott
Best Caribbean Performance – Rihanna for Man Down
Best Gospel Performance – Mary Mary for Walking
Album of the Year – Chris Brown for F.A.M.E.
Best Hip-Hop Song – Nicki Minaj for Moment For Life
Best Traditional Jazz Album – Cassandra Wilson for Silver Pony
(Who?  I can't place the face.)
Best Contemporary Jazz Album – Dave Koz
(Oh, yeah, I remember him!)
Related posts: